Technical Parameters
TB15-WA1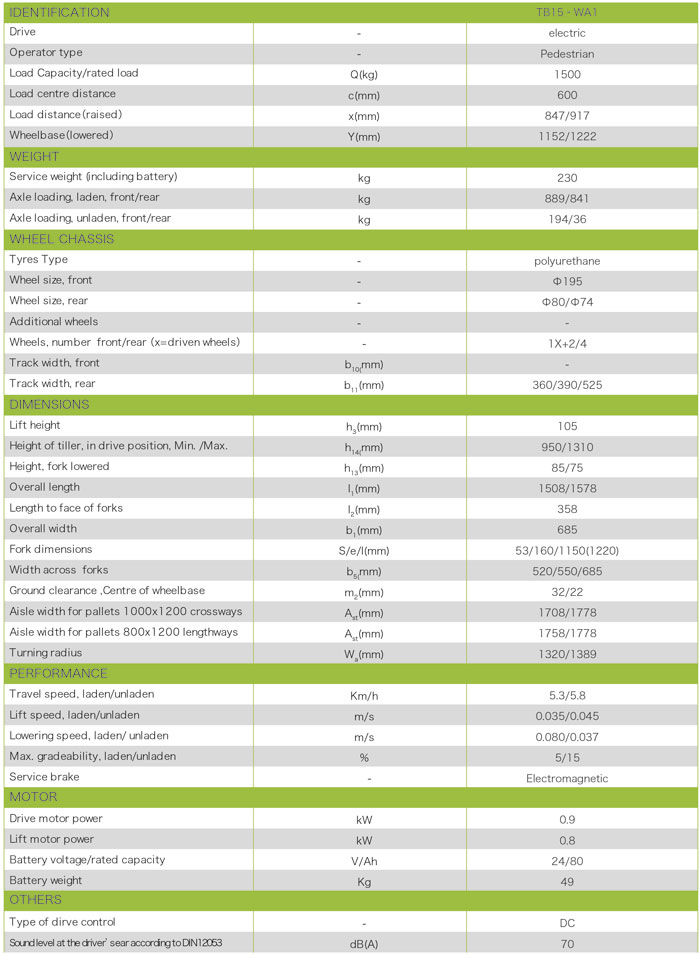 Product Features
Safe & Efficient
Hand brake function ensures proper stoppage of the forklift on slopes, preventing sliding and reducing accidents. The hand brake is also equipped with an emergency reverse switch to provide enhanced safety.
Five pivot structure that ensures greater operational safety.
Flexible Control
Outstanding drive wheels that integrates power and braking into one, offering a compact structure with powerful drive and small overall dimension.
Equipped with US Curtis electronic control with continuously variable transmission and comprehensive protection that offers flexible control.
Stable & Reliable
The drive wheels can adjust the pressure automatically based on the load to provide greater operational stability.
Special elastic polyurethane wheels provide longer service life.
The small and aesthetically appealing US Curtis meter configuration supports automatic fault detection and other powerful functions.
Swiss Bucher hydraulic power unit provides stable and reliable operation that is low on energy consumption and noise generation.
The lifting limit function regulates and control the height of the forklift to protect the vehicle.